Illusions Vinyl Fence is manufactured in state-of-the-art facilities by a company that has been manufacturing and distributing fence products for over 40 years. All of your vinyl products are made with only 100% Pure Virgin Vinyl and meet or exceed ATSM F964 specifications.
What they said...
"The Grand Illusions Walnut wood grain is one of my favorites – it really is beautiful! All we do here is fence so knowing the product thoroughly and having a good relationship with the manufacturer takes the hassle out of special orders for our customers."
Gerry R.
ProFenceSupply.com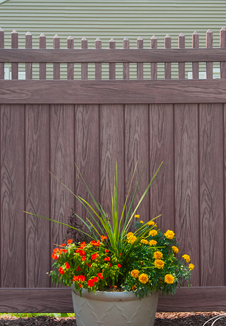 Made in the USA. Illusions Fence is the best PVC vinyl fencing in the industry.
With over 60 standard styles of vinyl fencing that can be mix and matched in 35 colors and 5 authentic wood grains, no other company can even come close to the available choices of colors, styles, and wood grains Illusions is able to provide for you.
Not only that, Illusions Vinyl Fence is made from 100% Pure Virgin Vinyl, it's F964-13 compliant, VMA Certified, Miami-Dade 75MPH Certified up to 8-feet high, has the industry leading standard for color retention… and just plain looks awesome!
Find out more about the terrific quality of Illusions Fence.