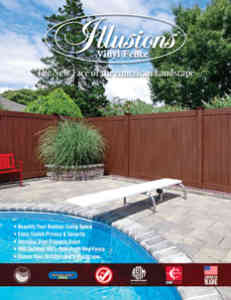 Illusions Vinyl Fence Main Product Brochure
Illusions Vinyl Fence's flagship product brochure. Featuring amazing photos of real product installs as well as codes and available accessories. Make sure to check out the two terrific Grand Illusions Color and WoodBond fence spreads in the back.
8.5″ x 11″
104 pages
Full Color
Download
---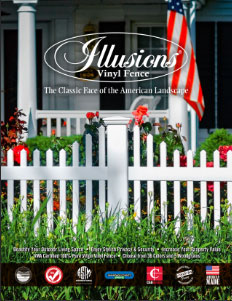 Illusions Vinyl Fence Classic Product Brochure

This gorgeous brochure is a condensed version of the Main Product Brochure that features more of a concentration on the Classic White, Classic Beige, Classic Gray, and Classic Clay colors. There are many great photos inside as well as illustrations for easy ordering. It's a perfect companion piece to the Illusions Main Brochure and also works well as a standalone option.
8.5″ x 11″
28 pages
Full Color
Download
---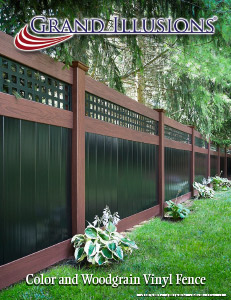 Grand Illusions Color and Woodgrain Vinyl Fence Tri-Fold Brochure
Grand Illusions Color Spectrum and Grand Illusions Vinyl WoodBond are the premier choice for color and woodgrain vinyl fencing products in the industry. With 35 colors and 5 woodgrains to choose from, no other company gives you more options to create the yard of your dreams.
This large tri-fold gives you a quick look at all the available color and woodgrain options.
11″ x 25.5″ Tri-Fold
6 Pages
Full Color
Download
---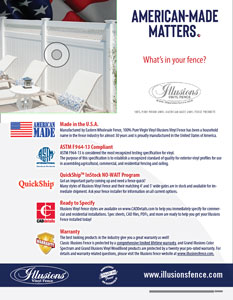 ---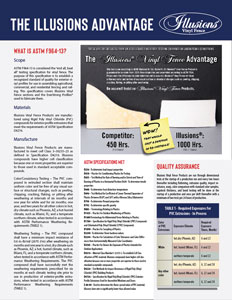 The Illusions Vinyl Fence Quality Advantage Flyer
Looking for a few quick reasons to make Illusions Vinyl Fence, the best PVC vinyl fence brand in the industry your next fence purchase? Download this little flyer. Want to know what all of the Illusions Fence social media search terms are? They're right here as well.
8.5 x 11″ Flyer
1 Page
Full Color
Download
---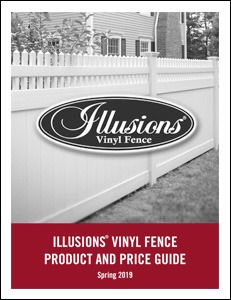 Illusions Vinyl Fence Product Catalog
The Illusions Vinyl Fence Product Catalog features a comprehensive item by item, product code display of the Illusions Vinyl Fence styles available for order. PVC vinyl privacy fence, semi-privacy fence, Classic Victorian picket fence, contemporary picket fence, ornamental picket fence, curved and transition fence sections, post & rail, gates, arbors and pergolas, fence posts, bends, lattice, post caps, picket caps, gate hardware, and fence accessories.
8.5″ x 11″
186 pages
Two Color
Download
---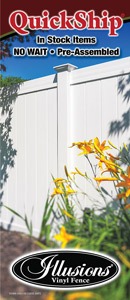 Illusions Vinyl Fence QuickShip Brochure
VMA Certified Illusions Vinyl Fence has many styles that are available for immediate shipment. This tri-fold brochure has images and codes for those styles.
11″ x 8.5″ tri-fold
2 pages
Full color
Download
---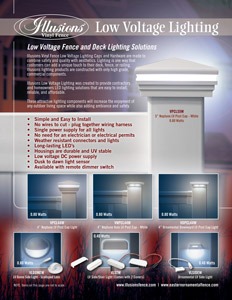 ---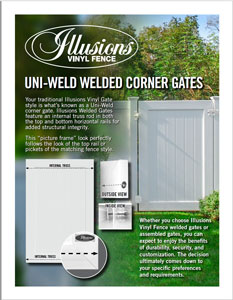 Illusions Vinyl Gates Flyer
Welded Gate or Assembled Gate You Ask? The good news is there's no wrong answer. Each has its own set of benefits. Whether you choose Illusions Vinyl Fence welded gates or assembled gates, you can expect to enjoy the benefits of durability, security, and customization. The decision ultimately comes down to your specific preferences and requirements. This 2 page flyer tells you the benefits of either style.
8.5″ x 11″
2 Pages
Full Color
Download
---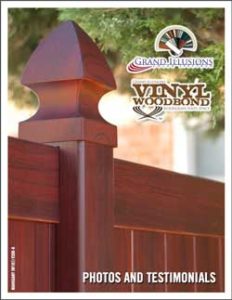 ---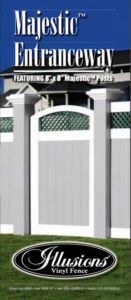 ---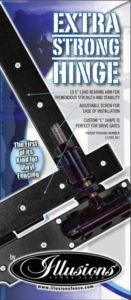 ---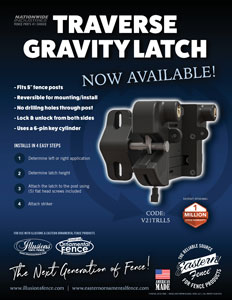 ---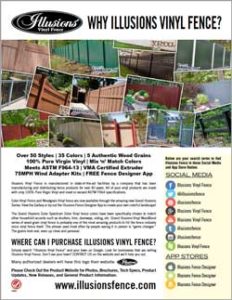 ---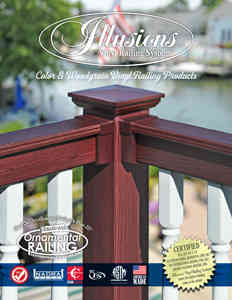 Illusions Vinyl Railing System Product Brochure
The Illusions Vinyl Railing System has many applications. Both residential and Commercial. This brochure details the available styles as well as the certifications (ICC-ES AC174, IRC, IBC) necessary to install on residential homes and skyscrapers alike. There is also valuable information pertaining to the testing and advantages of the 100% Pure Virgin Vinyl used in the Illusions Vinyl product lines.
8.5″ x 11″
24 Pages
Full Color
Here is a link to the Illusions Vinyl Railing System PVC vinyl fence website where you can find all the information you need to know about the amazing 35 colors and 4 woodgrains of vinyl railing available through the Illusions brand.
Illusions Vinyl Railing System Official Website
Download
---
---