Welcome to the Illusions Vinyl Fence Official Website!
Take a tour around to find all the information you need to help
you with your potential PVC Vinyl fence purchase.
Many authorized dealers will have this logo on their website: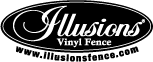 If you would like to reach out to a local dealer,
simply fill out the info and we'll reply to
your e-mail with local options.