Old Facebook Landing Page
Hello PINTEREST Friends!
Where can I find Illusions PVC Vinyl Fence Locally?
Simply search "Illusions Vinyl Fence" and your town on Google. Look for businesses that are selling Illusions Vinyl Fence. There are a large amount of Illusions dealers out there waiting for your call.
Many authorized dealers will have these logos and this text on their website as well:
Sample Fence Company is a proud dealer of these fine fence products in Nassau County, NY.
Illusions Vinyl Fence, Grand Illusions Color Spectrum Color Vinyl Fence Products, Grand Illusions Vinyl WoodBond Woodgrain Vinyl Fence Products, Illusions Vinyl Railing System, Eastern Ornamental Aluminum Fence Products, Eastern White Cedar Brand Wood Fence Products, and System21 Chain Link Fence Products.
Please Check Out the Product Websites for Photos, Brochures, Tech Specs, and General Product Information: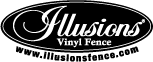 For more information, please feel free to email us:
[contact-form-7 404 "Not Found"]