Hunter Green Vinyl Fence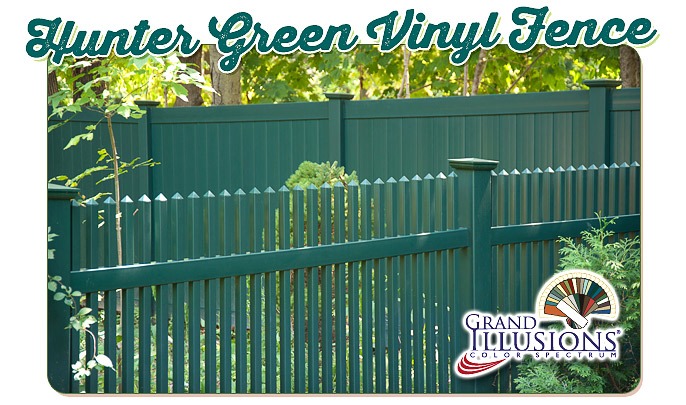 Hunter Green Vinyl Fence.
Sounds so simple, doesn't it? So intuitive? So obvious?
Well… to quote Steve Jobs:
"Simple can be harder than complex: You have to work hard to get your thinking clean to make it simple. But it's worth it in the end because once you get there, you can move mountains."
Illusions Fence has moved mountains to bring you the Grand Illusions Color Spectrum and Grand Illusions Vinyl WoodBond color and woodgrain fencing products. All this work was done so that you don't have to think about how your vinyl fence comes in 35 colors and 5 woodgrains. You simply have to say; "yes, I want Grand Illusions color and woodgrain vinyl fence in Hunter Green, or Autumn Orange, or Eastern White Cedar, or all three in one panel."
This install shows how timeless a vinyl fence can look. Vinyl fence no longer has to represent the look of something that is only considered contemporary. You can now feel free to offer up color and woodgrain vinyl fences in vintage settings as well. Have a Pottery Barn or Restoration Hardware vibe to your outdoor living space? Try out the Illusions Fence Design Center. Match your setting with a Grand Illusions product. Your home accents no longer stop at the shutters. Have fun carrying them through to your fence and see how amazing your install can look!