Watch Out for Poor Product Pitfalls

Illusions brand vinyl fencing uses top-grade materials from the nations leading extruders of vinyl products. The materials are a custom blended mix of stabilizers, impact modifiers, processing aids and pigments. Long term weathering studies have shown these products tin stabilized, acrylate modified formulations with high levels of titanium dioxide (a pigment and UV light screener) result in the best retention of color, gloss and toughness.
Many other brands are made from a broad variety of recycled plastic materials. Fence boards, rails and posts, both vertical and horizontal, need strength. For example—Some large franchise store vinyl fences are only 5-1/2′ wide per section and the posts require an ACQ wood 4″ X 4″ insert for stability! Our 100% Pure Virgin Vinyl posts have inherent structural integrity and do not need inserts.
All the profiles that go into the Illusions line of PVC fencing are made from extruders using advanced chemistry and state of the art proprietary tooling and manufacturing equipment. All of the polyvinyl components that go into Illusions Vinyl Fence and Illusions Vinyl Railing Systems are constructed of scientifically formulated 100% virgin co-extruded PVC compounds. There are no reprocessed fillers added to weaken or compromise color and structural stability.
ARE THEY ASTM F964-09 COMPLIANT?
ASTM F964-09 is considered the "end all, beat all" testing specification for Vinyl fence. The purpose of this specification is to establish a recognized standard of quality for exterior Vinyl profiles for use in assembling agricultural, commercial, and residential fencing and railing. This specification covers Illusions® Vinyl Fence sections and the EverStrong Profiles used to fabricate them.
Illusions® Vinyl Fence Products are manufactured to meet cell Class 1–32333–3 as defined in Specification D4216. Illusions® compounds have higher cell classification because one or more properties are superior to those used in standard acceptable compounds.
Color/Consistency Testing – The PVC compound in extruded section shall maintain uniform color and be free of any visual surface or structural changes, such as peeling, chipping, cracking, flaking, or pitting after weathering in hot, dry climates such as Phoenix, AZ; a hot humid climate, such as Miami, FL; and a temperate northern climate, when tested in accordance with ASTM Performance Weathering Requirements.
Weathering Testing – The PVC compound shall have a minimum impact resistance of 0.6 in.-lb/mil (2670 J/m) after weathering in a hot, dry climate such as Phoenix, AZ; a hot, humid climate, such as Miami, FL; and a temperate northern climate, when tested in accordance with ASTM Performance Weathering Requirements.
REAL COMPETITOR ISSUES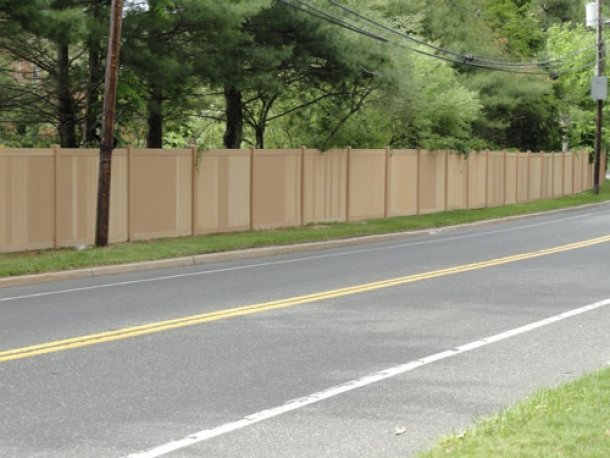 Inconsistency – Future Replacement Hell Inconsistent color aging is a direct result of using a lower quality product to shave off initial costs.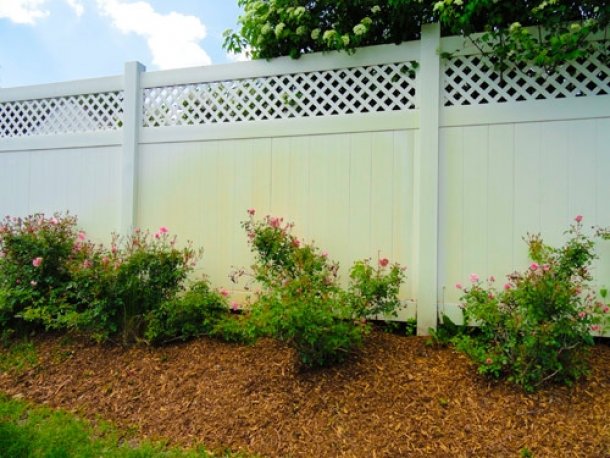 Yellowing – The Silent Killer Yellowing is another huge issue with companies who don't use enough UV inhibitors in their products. This is one of the biggest culprits in the fence industry. When the fence is initially installed, no one knows that this will happen. It can take 6 months or two years to occur, but when it does, the replacement costs can be substantial.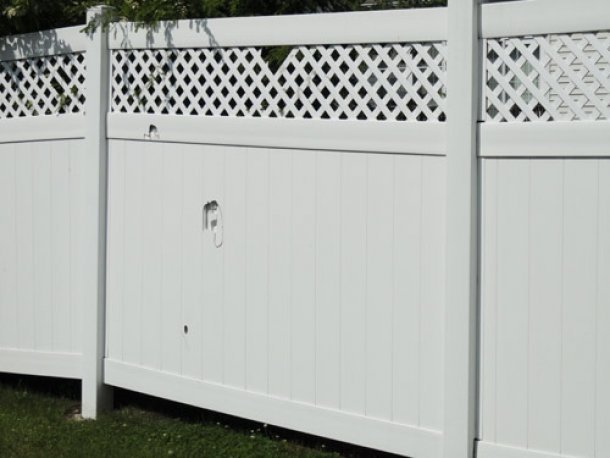 Brittleness – The Lost Referral Fences made of cheap recycled material are much more prone to brittleness. It can take as little as a couple of kids riding by on their bikes to throw a rock and ruin an installation. Angry homeowners will call asking for a replacement for a cheap and faulty product. If it's not replaced at the installer's cost, homeowners will complain and referrals will be lost.
To learn more about the intense testing and quality specifications Illusions Vinyl Products are put through, click here for the Illusions Commercial Fence brochures and reports.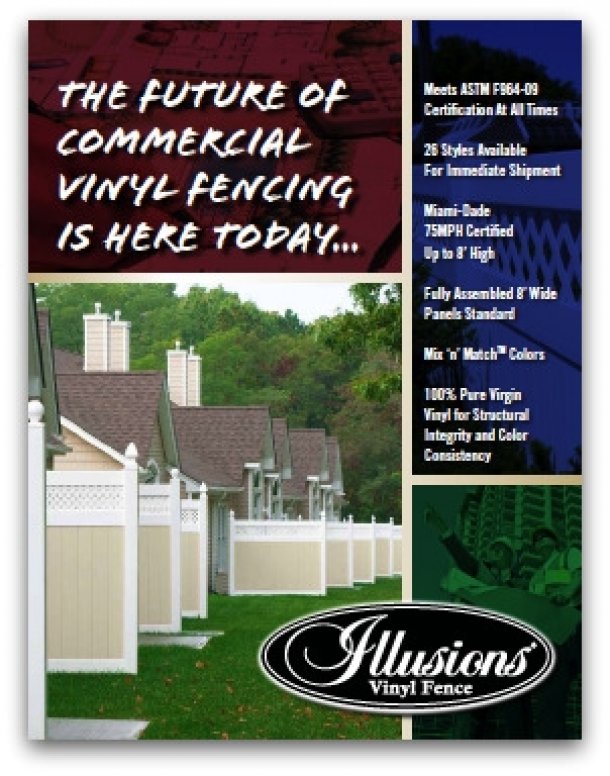 Illusions and Illusions Vinyl Fence, are trademarks of Eastern Wholesale Fence Co., Inc. TM and Copyright Eastern Fence © 2010 All Rights Reserved.