What Vinyl Fence Brand Should I Buy?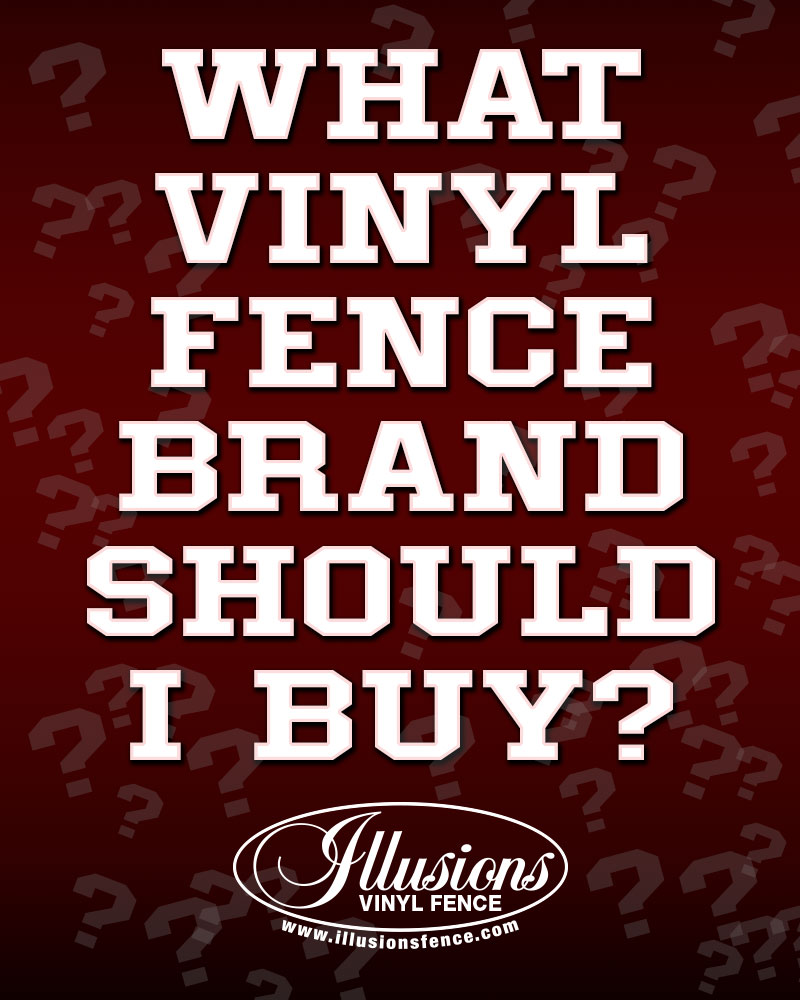 What Vinyl Fence Brand Should I Buy?
This is a great question! First off, congratulations on taking the first step towards your PVC vinyl fence purchase. There are a lot of brands out there and a lot more fence installers telling you what you want to hear about whichever brand they are selling. So how about we get down to the brass tacks of which vinyl fence brand is the best out there. (Here's a hint… it's Illusions Vinyl Fence).
Since you are doing your research on vinyl fencing products, we would like to offer you a few important questions to ask your fence contractor when shopping for your new fence;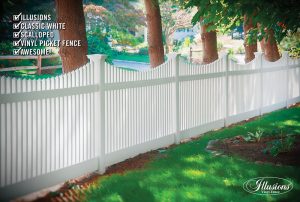 • Will my vinyl fence be a 100% Pure Virgin Vinyl product? – This is super important. We all love the idea of recycling, but be careful of PVC fences made from recycled materials as the integrity of the product could be lost and a product failure can happen at the worst of times. "Buy a good fence once or replace a poor fence several times." You always want to look for a one hundred percent pure virgin vinyl product. FYI – Illusions products are 100% Pure Virgin Vinyl.
• Will my vinyl fence be made by a certified member of the VMA (Vinyl Manufacturers Association)? – The Vinyl Manufacturers Association (VMA) provides certification that all materials used in the manufacturing process meet or exceed ASTM Industry Standards (ASTM F964-13). FYI – Illusions products are both VMA and ASTM F964-13 certified. Here is a link to the Vinyl Manufacturers Association Website. VMA Website

• Will my vinyl fence be American made? Great question. With so many brands out there importing vinyl from China and other countries, it's always good to be educated on where your fence will be manufactured. FYI – Illusions Vinyl Fence products are proudly manufactured in the USA by Eastern Wholesale Fence LLC of Medford, New York. Eastern Fence has been manufacturing and distributing fence products for almost 50 years and is a very well known and respected fencing company throughout the industry.
• What kind of warranty will my vinyl fence have? Most companies will offer a decent looking warranty, but you may want to check the fine print. FYI – Classic Illusions Fence is protected by a comprehensive limited lifetime warranty, and Grand Illusions Color Spectrum and Grand Illusions Vinyl WoodBond products are protected by a twenty year pro-rated warranty. For details and warranty related questions, here's a link to the Illusions Fence Warranty.
• Will my fence products be available in a timely fashion? – Many fence companies will leave you waiting for weeks to have your fencing products delivered. Got an important party you need a fence for? Need a fence for your new puppy or did you just get a pool? If so, spending weeks waiting for your fence can be pretty painful. FYI – We here at Illusions Fence are known throughout the industry as having one of the fastest turnaround times on products.
• Is the vinyl fence color or woodgrain I am looking for available? – Most fence manufacturers offer an extremely limited selection of colors. "What you see is what you get" so to speak. This is NOT the case with Illusions fencing products. FYI – Illusions Vinyl Fences and Railing are available in 35 standard colors, 6 standard Wood Grains, and have the ability to match any color you need. Looking for some nice Illusions color and woodgrain fence ideas? Here's a nice article to give you some samples. 32 Awesome New Fence Ideas for Your Home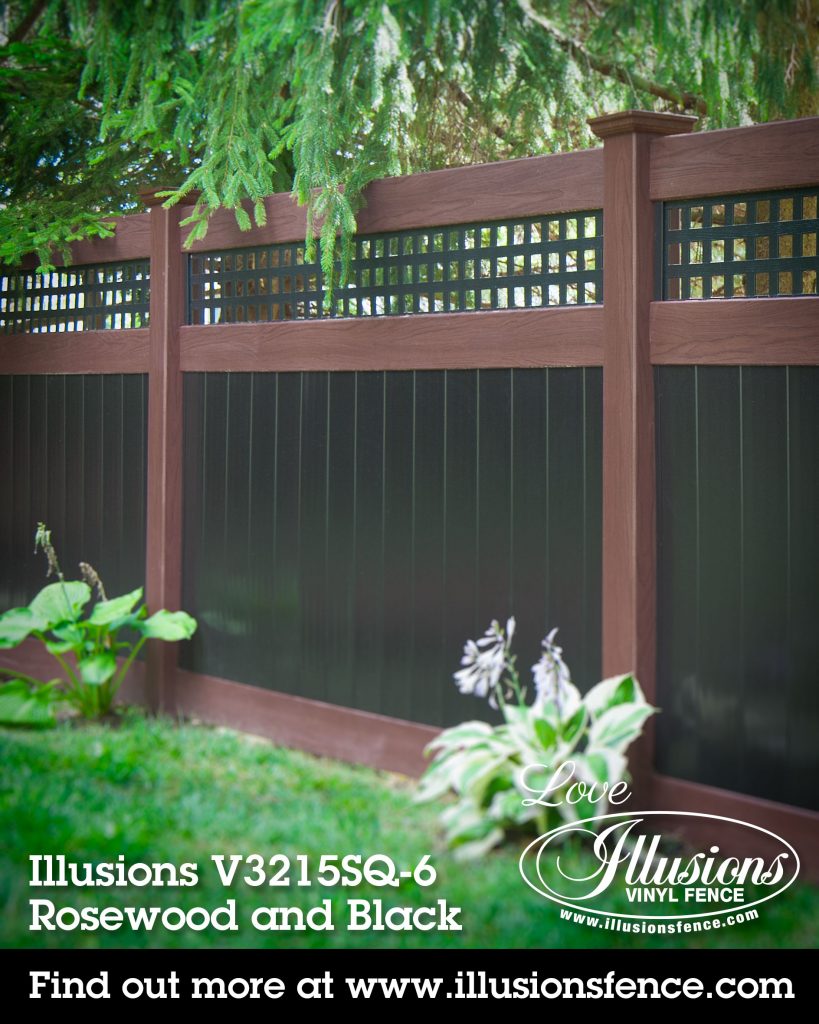 • Can I get gates with a choice of picture frame welded corners or fully assembled gates with posts? Most companies only offer one style of PVC gate. Standard vinyl gates are known as "pocket" gates. This means they are two posts with routed holes and cups to put the rails into. FYI – Illusions Vinyl Gates offer two great alternatives for your fence gate. The first uses "Uni-Weld Technology" complete with a NEW internal truss system for stability and longevity. This gives your Illusions gate the look of a picture frame that perfectly matches the look of your fence. The other style is known as an "Illusions Assembled Gate." Made with patented technology, these gates are super strong and use two posts with a customized internal stabilizer to hold the rails fast and strong. The best gate in the industry is also a perfect match for your fence. Here's a nice PDF to answer your welded verses assembled Illusions gate questions. Illusions Welded Verses Assembled Gate Flyer

• If you offer woodgrain vinyl, is the woodgrain realistic looking? – Most companies will carry a variation of a vinyl woodgrain but most will not look like real wood. FYI – Illusions Vinyl Fence woodgrains are hands down beyond a shadow of a doubt the most realistic looking woodgrains in the vinyl fence industry. Put it this way, they have knots. 'Nuff said? Grand Illusions Vinyl WoodBond woodgrains are a smooth matte finish product that look like a perfectly stained wood fence. The available grains are Mahogany, Rosewood, Walnut, Eastern White Cedar, and Driftwood. You'll be blown away by how good they look. Here's a link to a great article showing you just how awesome these fence products look! 37 Incredible Vinyl Woodgrain Fence Images From Illusions Vinyl Fence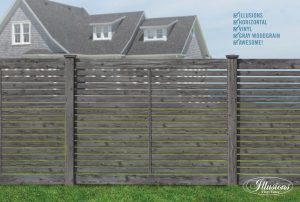 • Availability? – FYI – For instance, Illusions Vinyl Fence and Illusions Vinyl Railing products are available nationwide through a network of professional fence dealers and distributors.
• Can I get a vinyl railing that matches my fence? This is probably another question that a non-Illusions Fence or Railing selling company will have a lot of trouble with if the color you're looking for is anything other than white. FYI – Many Illusions Vinyl Railing products are available in the same colors and woodgrains that Illusions Vinyl Fence products are. Check out the Illusions Vinyl Railing website here.