Are you looking for a wood grain vinyl fence that looks great in the off-season?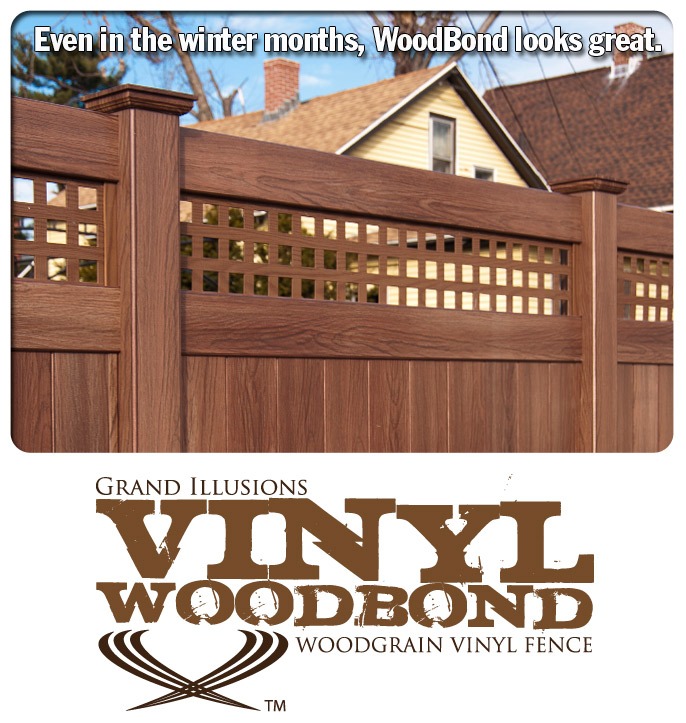 This week's photos feature a beautiful install of the Grand Illusions Vinyl WoodBond woodgrain vinyl fence. The specs are 23 sections of Walnut (W103) V3215SQ-6 Privacy fence with 6″ Wide Tongue & Groove Boards and Square Lattice. It also features a 6′ High to 4′ High D-Rail Transition Sweep style section at the end of the run.
Even in the off-season months, the Walnut woodgrain fence blends with the environment and provides a soft backdrop to any outdoor living space.
The installer had this to say: "The whole experience worked out great and it looked awesome when it was all said and done. Even better than we thought it would! The product is a great product and I'm happy to sell it. The customer is extremely happy with the product. We also saw the new Eastern White Cedar (W105) grain at a recent show and we're really excited to sell that this season as well."
The homeowner had this to say: "It's a beautiful fence. Most people think it's real wood!"
_______________________________________________________________
Here are some more great pics of this woodgrain vinyl fence install: