Terrific Woodgrain Vinyl Fence Pics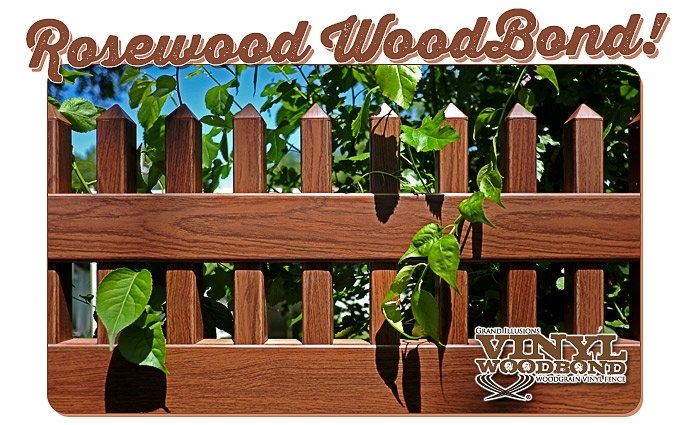 A Beautiful V3700-6W104 Vinyl Fence Install Shown In Grand Illusions Vinyl WoodBond Rosewood (W104)
A woodgrain vinyl fence so real even the leaves need a closer look!
What we have here is a wonderful install of V3700-6W104 woodgrain vinyl fencing panels shown in Grand Illusions Vinyl WoodBond Rosewood (W104).
What better fence to accent a beautifully manicured yard than the most innovative product in the fence industry! If you're paying a lot of attention to detail to make sure your yard is exactly what you want it to be, consider this: "Why spend the time to set your home apart with a beautiful landscape, if you are only going to install the same fence as your neighbor?" Fencing is not a minor detail in a yard, it's just as important to the overall look as the house itself.
Don't fall into the cookie cutter trap!
White vinyl will always have a place in the world, but sometimes you need to set yourself apart from the pack. The Grand Illusions line is the perfect way to do it.
Let's take some time to check out a few of the install images.