Grand Illusions Vinyl Fence featured on the cover of New York Landscape Contractor Newspaper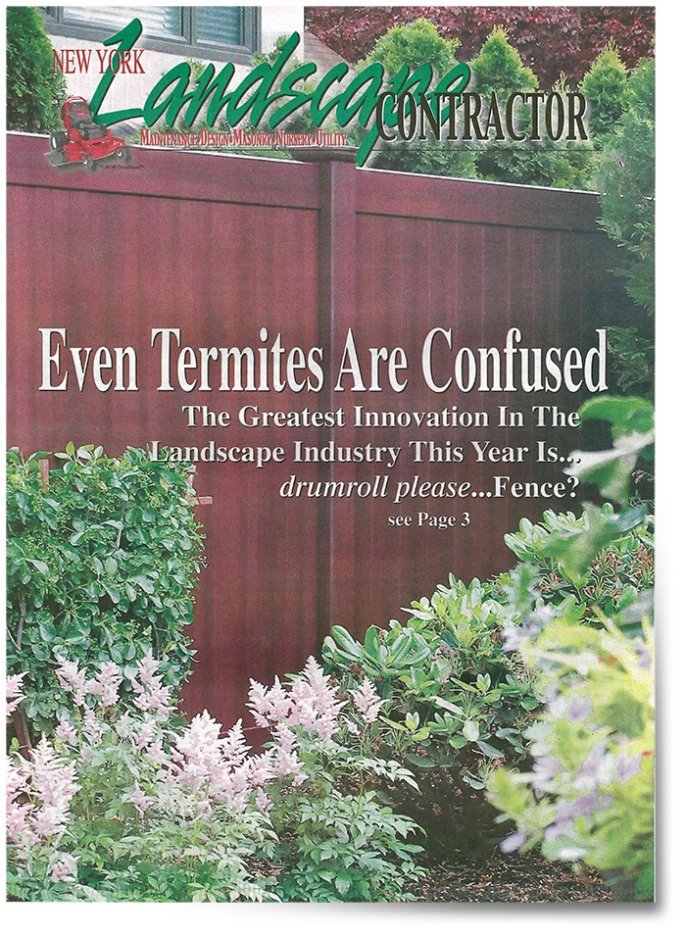 Grand Illusions Vinyl Fence featured on the cover of New York Landscape Contractor Newspaper
"The Greatest Innovation In The Landscape Industry This Year Is… Grand Illusions Vinyl Fence," says New York Landscape Contractor Newspaper!
With woodgrains so authentic, "Even the Termites are Confused (by woodgrain vinyl fence)."
New York Landscape Contractor has run a full feature article on the Grand Illusions Vinyl Fence product lines.
Here is the article:
The greatest innovation in the landscape industry this year is… drumroll please… Fence?
Fence you ask? How is fence innovative? It's wood, white, beige, or gray, isn't it?
Not any more. After years in the making, Illusions Vinyl Fence has put the finishing touches on its new Grand Illusions Color Spectrum and Grand Illusions Vinyl WoodBond color and wood grain vinyl fence products. They feature 35 standard colors (as well as custom color matching capability) and 5 authentic wood grains.
"The Grand Illusions Color Spectrum is more than just a color vinyl fence product; they are Illusions Vinyl Fences transformed into works of art," said company president Peter Williams Sr., C.F.P. "In the past, often you would hear complaints of the 'glossiness' or 'shininess' of vinyl fence. This is not the case with the Grand Illusions Color Spectrum, as it is a flat matte finish.
"This gives the overall appearance that the Grand Illusions vinyl fence could actually be a beautiful painted wood fence. All 35 colors in the Grand Illusions Color Spectrum are available to be mixed and matched," he said.
There are three available color series in the Grand Illusions program:
The Landscape Series (eight colors including Black, Barn Red and Eastern Green)
The Estate Series (24 colors including Autumn Orange, Federal Blue, Sage, Brownstone, Burgundy, Slate Gray and many more)
The Designer Series (custom color matching to any swatch)
"The fence colors have been specifically chosen to match other household accents such as shutters, trim, doorways, siding, etc.," said Williams, "so that color no longer stops at the house. For instance, picture a beautiful Victorian house with light blue siding, dark blue trim, and burgundy and yellow accents. Now imagine a privacy fence with a scalloped Victorian topper that has Atlantic Blue rails matching the trim, Sky Blue T&G boards matching the siding, Burgundy pickets and Colonial Yellow Caps. You now have a great match to the house and a thankful happy homeowner as well."
Williams continued, "The Grand Illusions Vinyl WoodBond series of wood grain vinyl fence is probably one of the most amazing products to hit the fence industry since vinyl fence itself. The phrase used most often by people seeing it in person is 'game changer.' The grains look real, even up close and personal.
The series features deep, rich Mahogany, Rosewood, Walnut, Cherry, and even Eastern White Cedar (complete with knots). All have great curb appeal. "Grand Illusions Vinyl WoodBond is not an embossed or toy-like texture like some other products," said Williams. "It has the appearance of a flat matte finished stained wood, except for the Eastern White Cedar grain, which looks like fresh, unstained white cedar."
The products start with 100% Pure Virgin Vinyl Illusions Vinyl Fence products, including pre-assembled panels, and Uni-Weld Gates. Then, through a patent pending multi-step fusion bonding process, the color or wood grain is added.
All the components are then finished with color protection by the Sky2Blue Shield, which resists fading, scratching, peeling and flaking.
"Regarding longevity, years of extensive testing have been done on the weatherability of the product," said Williams. "There is also a 20-year non-prorated warranty to back up the testing."
The Sky2Blue Shield provides scratch protection against normal wear and tear, he added. "Think of a car. If someone is malicious in their intent, they will damage anything. Just treat it like what it is. If you buy a Mahogany Vinyl WoodBond fence, it should be treated like you bought a mahogany fence. Common sense still applies," he said.
For complete details on choosing, selling and ordering the products, the Illusions Fence Design Center is available at www.illusionsfence.com.
It is a free web-based application that allows you to create different Mix 'n' Match combinations of Illusions Vinyl Fence. It will also allow you to create a report that can be printed and saved. This report will list the colors and styles used on the job so there is no confusion with ordering. It can be linked directly to your web site via a Weblink to help increase sales. Some customers using the links have seen dramatic increases in sales over the last year, noted Williams.
According to the Eastern Fence Art Director Jeremy Dean, "We have seen some customers using the links with over 33% increases in sales over the previous year. With numbers like that, it's really pretty hard to imagine why everyone isn't taking advantage yet."
Dean continued, "The Illusions Fence Design Center is an amazing sales tool. We are all extremely excited at what the Design Center represents. It is a user friendly, simple interface to create and order Illusions Vinyl Fence products. Contractors and homeowners could use it in showrooms, on sales calls, or even at home.
Grand Illusions Color Spectrum and Grand Illusions Vinyl WoodBond products are nationally available through local distributors.