Black Pergola and Picket Fence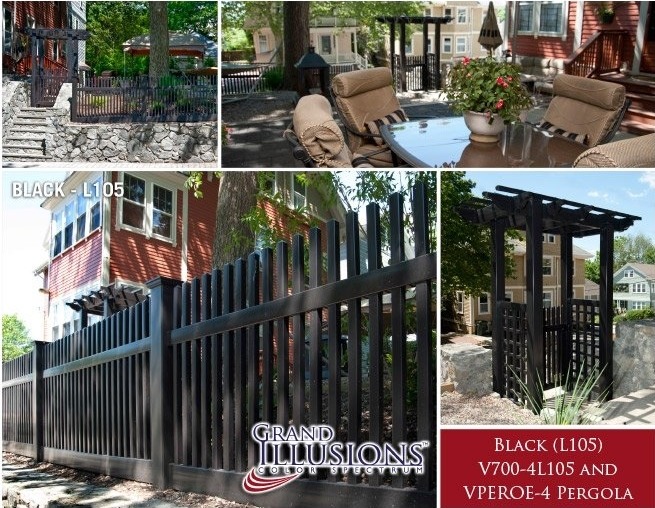 This install even goes a step further, namely the Old English Pergola at the top of the steps. What a beautiful way to accent the entryway to their backyard. The pergola is the final piece of the puzzle to really bring out the life in this install.
TESTIMONIAL FROM THE FENCE CONTRACTOR
"This job was a bit difficult. What was different about it was the stairway was pitched to allow for water to run down one side. So in order to get the pergola top level and square, I had to individually cut the bottoms of the posts perfectly in order to sit correctly. Then I took about two feet off of the first two posts, then cut them in half to create four 1′ pieces to cut  as a pattern for the real posts. On these small "pattern posts," I cut them so the angles would fit perfectly. Then I could transfer those angles when I cut the real posts so as to not make a mistake. This way I only cut once because I had a perfect pattern. I used 1-3/8″ heavy wall pipe and hammer drilled the holes, inserted them, filled them with Eastern Quick Set, and then filled the posts over them with concrete so when it hardened inside the post, it would grab the pipe and hold it securely. I also use small hammer drill bits to pre-drill holes for gate hardware when you have the concrete in the post.
All in all I had no trouble doing all of this with the Grand Illusions Color Spectrum products. I just handled them with a little more care. I left the wrapping on a little longer than usual in some cases. Even after all that, I only had a couple of little touch up areas. Nothing major at all. They were easily taken care of with the provided touch up color match.
The color choice for the install was customer based. There was also black chain link in the back that they may have used to help make their decision.
As for the fence up on the wall… Unfortunately the wall had a footing that came out and we had to drill with a similar tactic to the pergola. It wasn't a big deal as I always have the equipment to handle installs like this on my truck. A hammer drill, and pins (1-3/8″ heavy wall pipe) on the truck just in case we get ledge, stone or any other situation when you can't just put them in the soil.
I've done quite a few Grand Illusions projects so far and people love it. It's like people being able to have their cake and eat it too.
The longevity of vinyl with the look of cedar or painted wood. I'll give you a for instance. We're doing a job right now where we're pulling an 8′ high wooden fence that still has a lot of life left in it to replace it with a Grand Illusions fence just because the homeowner doesn't want the maintenance anymore. She just wants her yard to look perfect and maintained and is willing to sacrifice a few more years of declining wood fence to just not have to worry about it."
A Few Words With the Homeowner
"I heard about Grand Illusions Color Spectrum through our fence company… I've known them for a while. They had showed me a variety of products. What I found is that I liked the look of the Illusions fence styles and the Grand Illusions colors. I thought it was a masculine looking better made product. I simply chose the black because I feel it's a timeless color that goes with anything. What do I love best about the fence other than the color? It keeps the dog in the yard."  🙂