Where Can I Find a Green PVC Vinyl Fence?
Where can I find a Green PVC Vinyl Fence?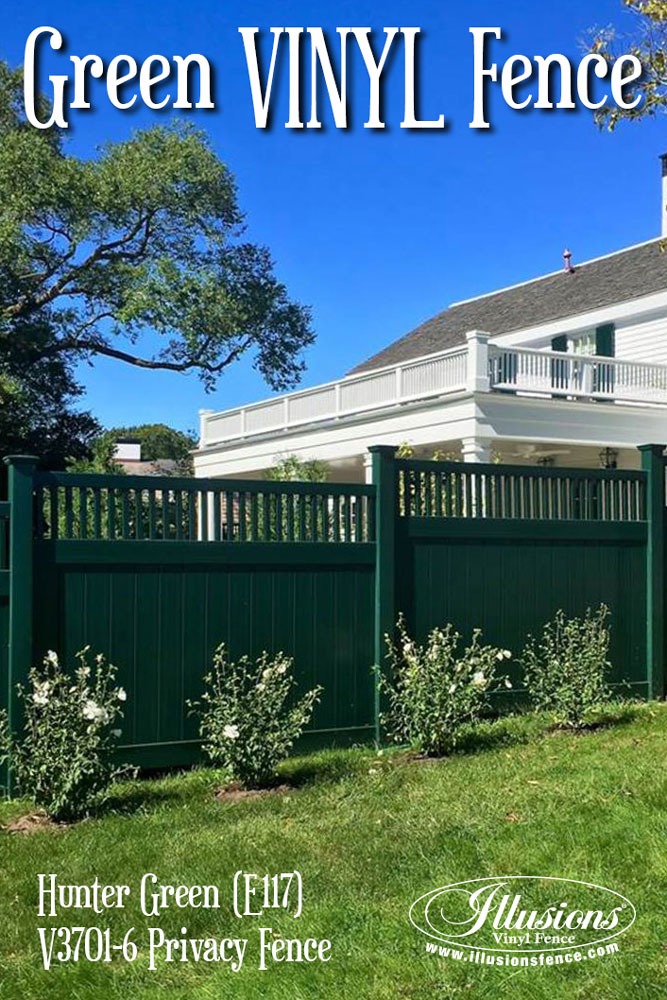 Looking for green PVC Vinyl Fence?
You've come to the right place. Illusions Vinyl Fence manufactures 35 colors and 5 authentic wood grains of PVC vinyl fencing products. Pretty much anything you're looking for with your fence, you can find with Illusions Fence.
Many of the below images are of green privacy fence styles. Grand Illusions Color Spectrum Hunter Green (E117) is a very popular color. It's a darker green finish that's perfect for hiding in the background of your landscaping ideas. It won't jump out of the background, it will blend into your hedges and green foliage. You'll also see that people like to mix and match their fence colors. In this article you'll see and Eastern Green (L104) and Brown (L106) privacy fence.
There is also a beautiful Evergreen (E106) Classic Victorian Stepped Picket Fence Gate that goes incredibly with the surrounding yard. It looks like it could be from a quaint New England village 100 years ago. It's a perfect setting for a garden fence as well. You can let your home fence ideas and garden fence ideas flow with all of the options you have at your fingertips with Illusions Vinyl fence products.
Illusions Vinyl Fence products are sold wholesale to the trade. This means that if you're interested in getting a quote or purchasing your very own beautiful green PVC vinyl fence products, just head on over to the CONTACT page of the website and we'll help you locate your closest dealer(s).
What's more, if you want to try out your own creativity before you buy to see if there's a particular style or color combo you're interested, feel free to give the Illusions Fence Designer APP a try. You can download it to your iPhone, Android, or just use the desktop version.
Don't stop there. If you are interested in seeing some of the Illusions Vinyl Fence brochures to find out more about the products, check out the LITERATURE page of the website.
Thank you for checking out these incredible images of Illusions green PVC vinyl fence products. You won't be disappointed!