Who Makes the Best White Vinyl Fence?
Who Makes the Best White Vinyl Fence? Illusions Vinyl Fence of Course!
Are you shopping for the best white vinyl fence and wonder which brand you should choose?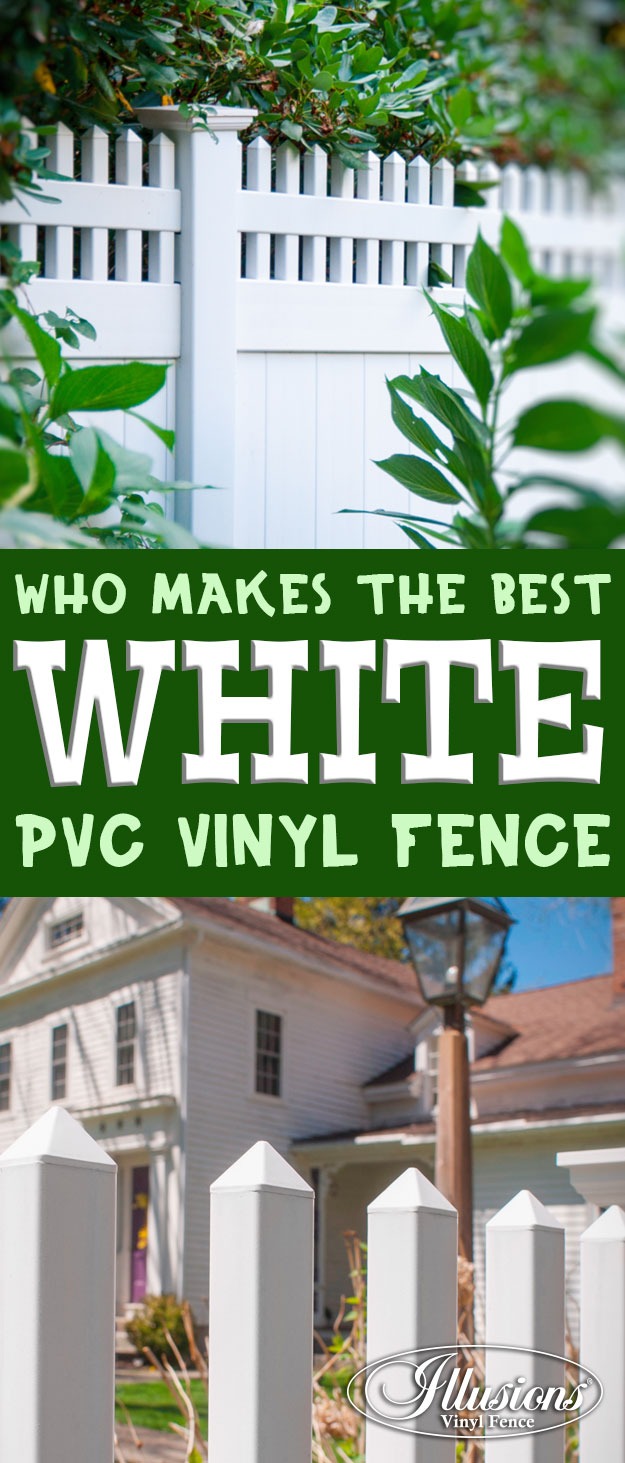 We understand that there are a many brands out there that manufacture PVC vinyl fencing products. We also understand that finding the best white vinyl fence is something that can bring with it some anxiety. It's a legitimate home improvement purchase that should last and look great for a long time.
Without a degree in vinyl fence extrusion and processes, how do you know you're purchasing a quality product from a reliable company?
We would suggest you trust the people who know the most about vinyl fence. The Vinyl Fence Manufacturer's Association. A division of the AFA (American Fence Association). They have created the highest standards for PVC vinyl fence and Illusions Vinyl Fence is one of the founding members.
While we have you, since you are wisely doing your research on vinyl fencing products, we would like to offer you a few important questions to ask your fence installer when shopping for your new Vinyl Fence or Railing;
Is it a 100% Pure Virgin Vinyl product? – Do not use if made from recycled materials as the integrity of the product will be lost and a failure should be expected (buy a good fence once or replace a poor fence several times). Illusions products are 100% Pure Virgin Vinyl.
Is the vinyl made by a certified member of the VMA (Vinyl Manufacturers Association)? – The VMA provides certification that all materials meet or exceed ASTM Industry Standards (ASTM F964-13). Illusions products are both VMA and ASTM F964-13 certified.
Will the products be available in a timely fashion? – We here at Illusions are known throughout the industry as having the fastest turnaround time on products.
Is the color you are looking for available? – Nobody, but nobody does color PVC vinyl fence and railing the way Illusions does. All Illusions Vinyl Fences are available in 35 standard colors, 5 standard Wood Grains, can be mix 'n' matched, or can be color matched to any color you need.
Do the gates have Uni-Weld Corners? Standard vinyl gates are known as "pocket" gates. They are traditionally heavy and do not compliment the fencing that they are sold with. Illusions Vinyl Gates are always built with Uni-Weld technology. Complete with a NEW internal truss system for stability and longevity. The best gate in the industry is also a perfect match for your fence.
Are the vinyl railings certified to meet Industry Standard ICC-ES AC174? Illusions Vinyl Railing System is ICC-AC174 certified and qualifies for installation on the tallest building in the country. (Must be appropriately installed to local building codes).
Availability? – Illusions Vinyl Fence and Illusions Vinyl Railing products are available nationwide through a network of professional fence dealers and distributors.
Choice of Shiny or Matte Finish? – Traditional PVC vinyl fence has a glossy shine. Illusions Vinyl Fence can be purchased with either a shiny (Classic) or a matte (Grand Illusions Color Spectrum) finish.
Made in the U.S.A? – Many brands of "economy" PVC vinyl fence are manufactured outside the USA and don't have to adhere to the stringent VMA standards that Illusions does. This results in a sub-par product prone to cracking, staining, brittleness, and a potential for lead to be in the product. Illusions Vinyl Fence is proudly manufactured in the U.S.A and adheres to the highest production standards set forth by the VMA and ASTM.
Price? – Surprisingly enough, many box stores' DIY brands actually wind up costing more per section than Illusions. Affordable and long lasting Illusions Vinyl Fence is simply one of the best values in the fence industry.
Styles? – Illusions offers over 60 white vinyl fence styles. You can also get them custom created to match your artistic personality! All of them are also available in 35 colors and 5 wood grains!
Check out these amazing photographs of the best white vinyl fence in the market today. Illusions Vinyl Fence is your go to source for PVC fencing panels, gates, and posts.