The Fence You Want Is Illusions Vinyl Fence
If you need a fence, especially a vinyl one, Illusions Vinyl Fence is the fence you want.
Illusions Fence is an American made, VMA certified, 100% Pure Virgin Vinyl, top of the line fence product.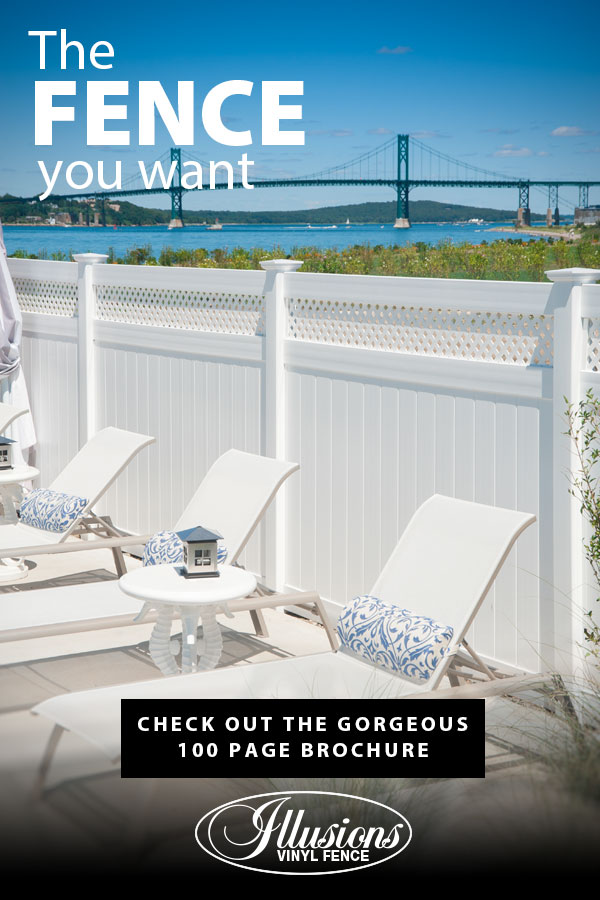 Why Illusions Vinyl Fence?
Vinyl Manufacturers Association (VMA) Certified
As a Vinyl Manufacturers Association (VMA) certified company, Illusions Vinyl Fence is routinely tested and regulated to maintain the most stringent guidelines of quality and consistency in the fence industry. This is extremely important to you, the consumer, because VMA certified products must be made from 100% Pure Virgin Vinyl which is a structurally superior and longer lasting product than vinyl made from recycled plastics.
ASTM F964-13 Compliant
ASTM F964-13 is considered the most recognized testing specification for vinyl.
The purpose of this specification is to establish a recognized standard of quality for exterior vinyl profiles for use in assembling agricultural, commercial, and residential fencing and railing.
QuickShipTM InStock NO-WAIT Program (Brochure)
Got an important party coming up and need a fence quick?
We've got your solution. All styles of Illusions Vinyl Fence with the logo and their matching 4′ and 5′ wide gates are in stock and available for immediate shipment.
Ready to Specify
Illusions Vinyl Fence styles are available on www.CADDetails.com to help you immediately specify for commercial and residential installations. Spec sheets, CAD files, PDFs, and more are ready to help you get your Illusions Fence installed today!
Made in the U.S.A.
Illusions Vinyl Fence has been a household name in the fence industry for almost 30 years and is proudly manufactured in the United States of America.
Warranty (Download the Warranty)
The best looking products in the industry give you a great warranty as well!
Classic Illusions Fence is protected by a comprehensive limited lifetime warranty, and Grand Illusions Color Spectrum and Grand Illusions Vinyl WoodBond products are protected by a twenty year pro-rated warranty. For details and warranty related questions, please visit the Illusions fence website at www.illusionsfence.com.